Are You Enough?
Welcome to my first Blog Post at Creative Writing How To!
I am participating in a writing contest "You Are Enough"
hosted by Positive Writer
positivewriter.com______________________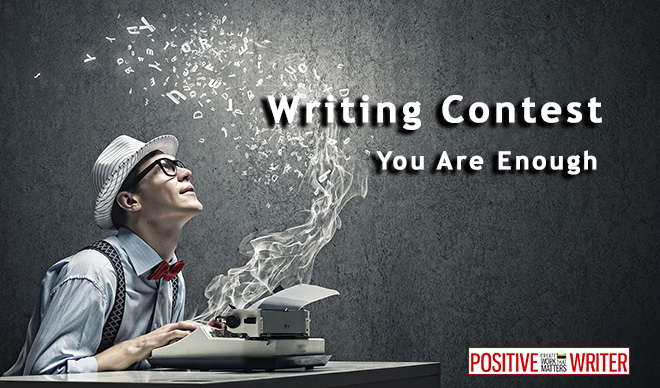 Welcome to the first Blog Post on Creative Writing How-To.
As you see the name of this Post is Are You Good Enough To Be A Writer? This is a subject near and dear to my heart. Let me tell you a little story.
When I was a little kid in school, I'd say in 4th grade, the teacher ask us to write a story about what we did over the summer. I actually liked this assignment because I loved to write. So I went home and wrote, I mean Pen and Paper, no computers back then. I know I'm old! I was so excited to turn my paper in to the Teacher. Well she had other plans! She made us get up in front of the class and read our stories. I almost cried! I was the shy one in the class, always stayed to myself. It took all the courage I had to get up in front of the class, my voice shook when I tried to get the words out. The kids laughed at me and made it one of the most horrible experiences of my life. When I was finished and went back to my seat, the kid behind me leaned up and told me my story was stupid! You know that kid didn't even write a story, so who's the stupid one. I didn't realize that at the time.
I ended up getting an "A" on that paper. My teacher even pulled me aside and told me I did a good job. But, you know what's stuck in my mind all these years? Not the "A" on my paper, but the Kid behind me saying my story was Stupid!
It took me many years to Write again.
I always felt that I had something to say, a story I wanted to write but" Was I Enough?"
I was an avid Book reader, in fact I always carried a book with me just in case I got stuck somewhere or had a free minute to read. In fact I still do that. I always felt I could do that I could Write a book.
My fear was that I was not a College Graduate with a paper that said I was qualified to Write! What did I do, I put it off, until one day I'd had enough feeling sorry for myself! I knew I had something in me that needed to get out so I did It I WROTE! What a great feeling, I found the courage to do the thing that was in me all the time. I finally figured out that I was Enough!
The first thing I did was start a Blog. I actually put my stories out there for the World to see! That was almost as scary as getting up in front of the class.
I have taken classes and read everything I can to improve my skills. But, no amount of studying can make you a Writer, it is already in you! You'll never know the Joy of seeing your first story Published. Don't let fear hold you back, You were born with a Story in You, let it out. YOU CAN DO IT!
Please keep in touch, let me know how your doing, I'm really interested. I'm always looking for another Great Book to read, It may be yours!
This story is a part of a Writing Contest, for Positive Writer
It is written by Bryan Hutchinson http://positivewriter.com/writing-contest-you-are-enough/
I encourage you to go and read his Blog, it has been a big help to me.